Daniel Negreanu Shows Off Poker Reading Ability with Big Fold in WSOP Main Event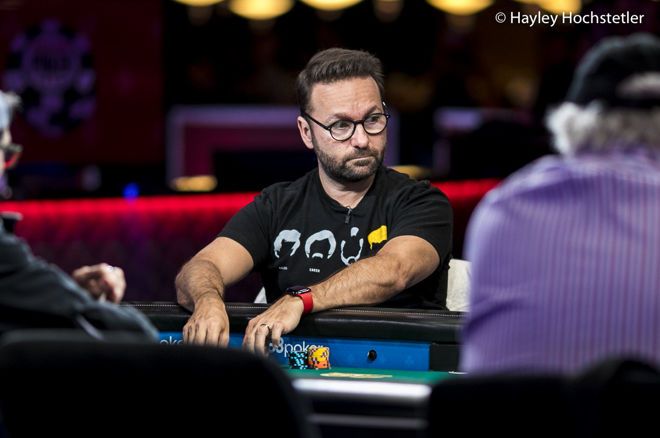 Table Of Contents
"Everything at the table conveys information" is a now famous quote from six-time bracelet winner Daniel Negreanu portrayed in YouTube ads for his poker MasterClass. At a televised feature table during Day 1 of the $10,000 WSOP Main Event, Negreanu put his reading abilities and exploitative play on display for the poker-viewing world to see, making a big fold with the third nuts.
Out of context, folding the third nuts to a single bet on the turn might have seemed rather outrageous to some people watching from home, but poker hands never occur in a vacuum. The Reddit post about the hand has people talking, with over 100 comments so far.
"Everything at the table conveys information."
Negreanu, second on poker's all-time money list, is renowned for his world class table talk. Anyone who has watched any significant amount of WSOP or poker coverage in general has witnessed him put these skills to use to extract vital information that has helped him make some great folds, calls and moves.
He actually explains in his MasterClass that this is not some magical mystical power – no White Magic here – but rather it comes down to putting your opponent on a range of hands, and narrowing those hands down as you gain more information. With the information he gathered in the hand in question, Negreanu was able to put his opponent on an extremely narrow range of hands based on her play preflop, on the flop and on the turn.
Hand Details
Negreanu likely already had a read on his opponent, Carol Harmon, as being tight and straight-forward, meaning her preflop raise to 2,500 at blinds of 300/500 with a 500 big blind ante showed a good amount of strength, even on the button where many players will have a bit wider of a range.
Negreanu's defending of king-queen in the big blind seemed pretty typical, and from there, he got one of the best flops he could hope for with his exact hand. Holding the king of spades, the
flop seemed favorable. With two overs, a gutshot draw to the nut straight and the king-high flush draw to go with it, Negreanu was ready to see a turn card.
Ryan Leng: "Daniel uses some great live exploits here to find a fantastic fold."
With 5,800 in the middle, Harmon wasted little time in tossing out a hefty 5,000 continuation bet, which Negreanu matched. At this point, Negreanu had accumulated even more information, likely putting Harmon on an even more narrow range, including some combinations involving the
– which would be bad for him.
The
turn indeed seemed like Gin for Negreanu, but the strength of his hand shriveled up based on what happened next. Negreanu checked again and Harmon bet just about half of the pot, 8,000 into 15,800. Using his hand reading abilities and his read on "Granny," Negreanu decided he was most likely beat and tossed his monster into the muck — correctly, as she indeed had aces with the ace of spades.
Hand Breakdown
Most players wouldn't dream of folding the third nuts in that spot to a single half-pot bet — the nuts being the
— but "DNegs" isn't most players. Some posters on the Reddit forum mentioned the idea of relative strength of hands, a concept clearly displayed in this one. Having the second-best possible hand in poker is usually ideal. After all, it's hard to make the nuts. But as Negreanu is well aware, the third nuts is no good against the nuts and he was able to find the correct fold.
Chip Leader Coaching instructor Ryan Leng shared his take on the hand with PokerNews. "From a theoretical standpoint this is a clear cut call, and folding is really bad. But Daniel uses some great live exploits here to find a fantastic fold."
"Daniel is an expert at these kind of exploits, and recreational players aren't going to stand a chance against him in the Main."
About the table talk in the hand, Leng commented: "When he starts talking to her his goal is to gauge how comfortable she is. Her response to his chat is very natural and flowing. If she had a non-nutted hand like a set, a worse flush, or even a pure bluff, she would likely respond with a different tone and different body language. Daniel is an expert at these kind of exploits, and recreational players aren't going to stand a chance against him in the Main."
Leng mentioned Negreanu is also using information he's accumulated while playing with his opponent, so it's hard to know exactly what he has seen or what his precise read on her is, though his fold gives some indication.
Saving chips in critical hands is an important part of tournament poker, a fact that Negreanu knows all too well. He would go on to bag up 71,800 in the flight, thanks in part to saving chips with the third nuts. Unfortunately for "Kid Poker," his hopes for Main Event glory will have to wait until next year. After getting down to around 30 big blinds, Negreanu ran pocket jacks into aces to lose the rest of his chips on Day 2ab.
Be sure to follow all the live updates right here at PokerNews as the World Series of Poker Main Event carries on in Las Vegas.
Everybody needs an account at one of these online poker rooms! They're the biggest, the best, and we get you the best poker bonuses. Check out our online poker section for details on all the online poker rooms around.