Blackjack Surrender: The Best Blackjack Version for Cautious Players

Ruta Rimkiene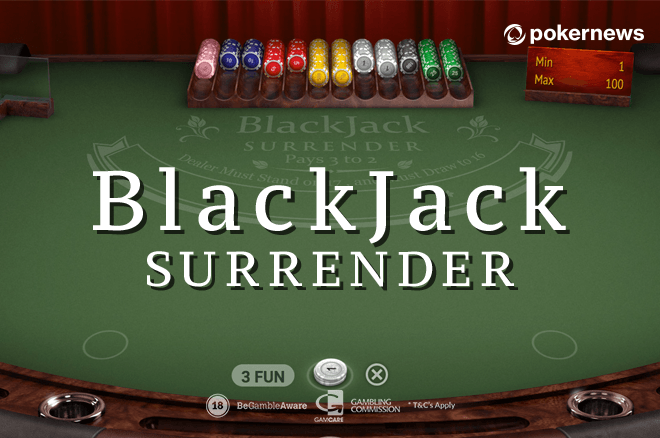 Most Blackjack games online don't let you surrender your hand
When you surrender, you get a half of your bet back
If you've seen the table game section of at least one of these online Casinos, you know that there are countless Blackjack variants online.
And one of them is called Blackjack Surrender.
When it comes to this game, there are two schools of thought:
It's a game for quitters
It's a game for smart players
I lean toward the latter, as Blackjack Surrender is a great game.
Thanks to the reduced house edge (which comes from the possibility to surrender early), this Blackjack variant attracts those who are ready for some serious real money gambling.
Because, let's admit it - when there's money involved, it's good to have the chance to quit before it's too late.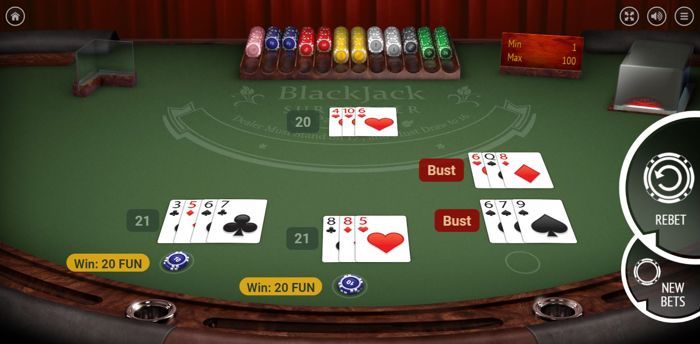 What Is Blackjack Surrender?
If you know how to play Blackjack online, you won't have any problems with Blackjack Surrender, as it follows the same basic rules of 21.
In case you want to refresh your memory, the article I just link is a great starting point. Read it and come back to this one afterwards.
f you're already familiar with the basic premise of Blackjack and know when to hit, stand, and split - you'll only have to learn about the concept of surrendering your hand when times get tough.
Early Surrender Vs. Late Surrender: Which Is Better?
The first thing you should do after you open your Blackjack Surrender game is not making a bet.
It's reading the rules.
Do this, and you'll notice that there are two different Surrender options depending on the Blackjack title.
These are called Early Surrender and Late Surrender.
And here are their differences:
Early surrender. If the rules of a Blackjack game say that it offers early surrender, it means that you can quit the game (with a half of your initial bet) even before the dealer checks for a Blackjack.
Late surrender. So, your Blackjack title offer late surrender. This means that you can take back 50 percent of your bet only when the dealer checks for a hand of 21. In case you're unlucky and there's, indeed, 21, you can't surrender anymore and the dealer wins.
It's quite apparent that the Early Surrender option is more lucrative.
In fact, it goes as far as reducing the house edge by 0.62 percent.
And that's impressive.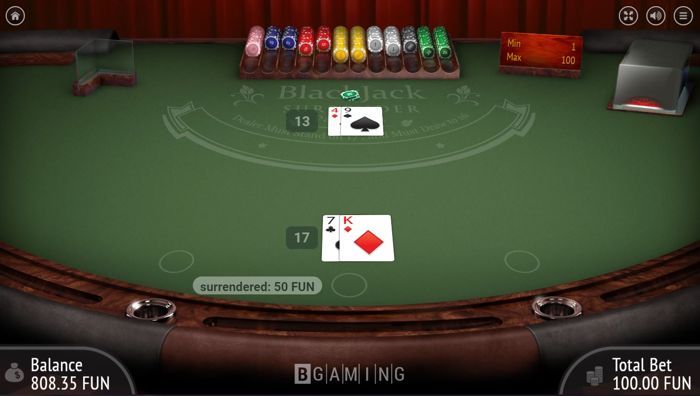 How to Win at Blackjack Surrender
If you've never played Blackjack Surrender before, I understand that it might be quite tricky to decide when to abandon ship.
In all honesty, I don't do this often myself, as I tend to play risky (thus, I bust much more than I'd like to admit).
However, you can play it smart and surrender every time when the odds are clearly against you.
So, what are the situations that require you to surrender your hand in Blackjack?
Well, here they are:
| Situation | Your hand | Dealer's card |
| --- | --- | --- |
| #1 | 16 | 9, 10, ace |
| #2 | 15 | 10 |
In the case of the first situation, it's not advisable to surrender when you get two cards of the value of eight.
That's because you can simply split them into two separate hands - but only if you want to.
Where to Play Blackjack Surrender Online
Now, let's put all this fresh knowledge into practice.
This is the perfect site to play Blackjack Surrender game. You can play for free to see, if this version truly resonates with you.
It's also one of the best sites to play online Blackjack in general
Here, you can bet on up to three hands, which adds to the excitement.
However, keep in mind that it only allows you to surrender late - so, if the dealer has 21, it's over for you!
Read these articles for more info on Blackjack:
Everybody needs an account at one of these online poker rooms! They're the biggest, the best, and we get you the best poker bonuses. Check out our online poker section for details on all the online poker rooms around.
The promotion presented on this page was available at the time of writing. With some Casino promotions changing on daily basis, we suggest you to check on the site if it still available. Also, please do not forget to read the terms and conditions in full before you accept a bonus.